Terra Variant from Holmer at Polagra Premiery 2020
Between January 17 and 19, you will be able to see this machine live during the Polagra-Premiery Fair.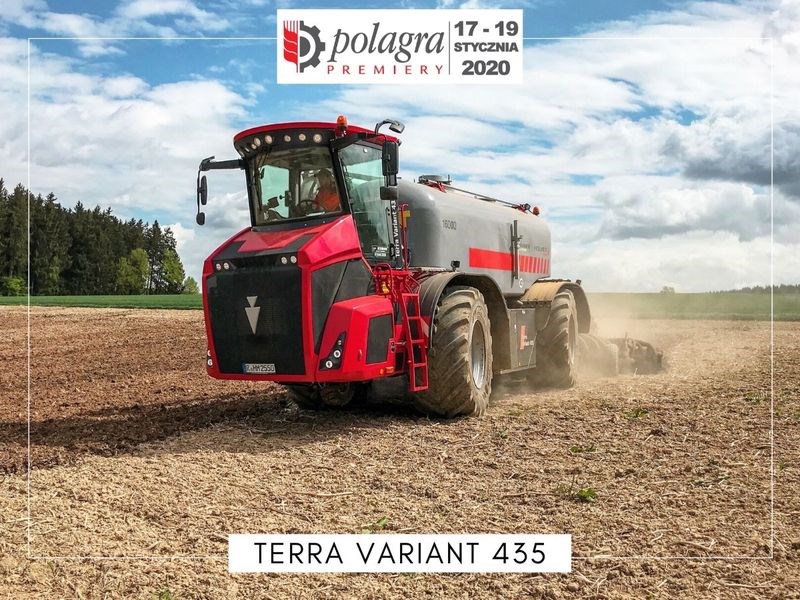 HOLMER has been constructing slurry spreaders for over 20 years. The clear goal when developing the Terra Variant 435 was to build a small, light vehicle that would be perfect for spreading liquid manure in early spring - especially in small areas. Organic fertilization in early spring is becoming more and more important as fertilization time is reduced. During the vegetation period, the demand for nitrogen is high, and adequate fertilization can be ideally used by plants. The optimal use of this short moment makes such work conducive to the protection of the environment and resources. Fast and cost-effective manure supply in specific cases is of great importance.
The inventors of Holmer have accumulated all their knowledge and experience to create an intelligent construction that, in combination with modern, durable steel, guarantees the highest stability. High demands were also placed on suppliers of parts. In Terra Variant, lighter rims have been inserted, modern tire technology has been used, as well as a new aluminum slurry pump. This created the Terra Variant 435, which combines optimum soil protection and maximum maneuverability with a perfectly harmonized body size.
Main advantages:
soil protection due to a significant reduction in vehicle weight (16.7 t) and the use of modern large tires, thanks to 4 wheels of the same size, the weight is evenly distributed.
maneuverability - two steering axles and a turning radius of 6.8 m are excellent parameters
stability in every position - wheelbase of 4.26 m and centrally located frame
minimal soil compaction thanks to the use of dog walking - driving on the track guarantees that only each surface will pass once. In this way, losses due to excessive soil compaction are avoided.
liquid manure tank with a capacity of 16 m3
engine power up to 435 HP
hydrostatic drive for continuous driving from 0 to 40 km / h
low diesel consumption
navigation system for efficient operation